How To Use Monday CRM In 2023
Monday CRM
As one of the best CRM software on the market, Monday.com offers users a wide variety of features to help them manage their business.
However, with so many options available, it can be challenging to know which features will be most beneficial for your business – and if they are indeed the right ones.
In addition to its current attributes, Monday.com is constantly updating its offerings to meet the changing needs of businesses, so it's essential to stay up-to-date on the latest features.
To help you make the most of Monday.com, I've compiled a list of features that will be essential for businesses looking to grow their customer base and improve their customer relationships.
This post will cover these features and what they could mean for your business over the next few weeks, months, and years.
Let's dive deep into this topic.
Dashboards
Monday.com's dashboards provide users with a quick and easy way to view their customer data in one place.
Users can create a dashboard that meets their specific needs with customizable widgets.
The dashboard feature is perfect if you want to get a bird's eye view in a snap.
By displaying all of your customer data in one easy-to-use interface, you can quickly identify trends and take action accordingly.
You can also collaborate intelligently across teams for project management, task management, sales management, and more, using the right dashboards to provide the correct data when you need it.
You can also have a calendar view so that no matter the number of users, every team member knows what's going on and can plan their days better.
Automation
Any user of a project management tool knows that business growth depends on automating repetitive tasks so that both the sales team and other stakeholders can focus on more critical tasks.
Monday.com's automation features help users automate their workflows and save time on tedious tasks.
Users can create an automation that will trigger certain actions when specific conditions are met – all in just a few clicks.
For example, you can create an automation that will send a follow-up email to a customer two days after registering for a free trial.
Imagine how much time your team could save if all of your follow-up emails were sent automatically.
By automating repetitive tasks, you can free up time for your sales team to focus on more critical tasks, such as developing relationships with new customers.
You can also use automation to stay up-to-date on your customers' activities.
For example, you can create an automation that provides the right people with notifications when a customer downloads a white paper from your website, allowing them to follow up promptly.
The great thing about automation is that you can customize it to fit your way of working.
You can also set it up once and let it work in the background, seamlessly integrating all of your favorite tools and saving time in the process.
Get started with Monday.com.
Kanban Boards
Kanban is a visual system for managing and tracking work.
With Kanban software, users can see what tasks are in progress, completed, and tasks are waiting to be started.
This system helps users stay organized and track progress on their work.
By using Kanban, businesses can improve their workflow and productivity.
With an easy setup that you can do in minutes, you'll be able to start using Monday.com's Kanban features to manage your work and boost productivity.
The Kanban feature can also assist businesses that want to improve their communication and workflow while allowing them to release quality products faster with the help of this feature.
If you want to stay on top of your workflow and gain insights from real-time dashboards, the Kanban feature might be the missing piece in your arsenal.
You can also collaborate across teams and external stakeholders to align your business processes.
With other abilities, including those to set private boards and integrate specific workflows, the Kanban feature is one to consider.
Digital Asset Management
Digital asset management (DAM) is the process of organizing, storing, and retrieving digital images, videos, and audio files.
By using a DAM system, businesses can improve their workflow and productivity while saving time and money.
Monday.com allows you to manage your team's files in one collaborative space.
The DAM feature is excellent for those dealing with information about their sales cycle – ranging from company data, creative projects, time checking, sales pipeline, etc.
When all of your team's files are in one place, it's easy to find what you're looking for and stay organized.
You can also speed up edits and approvals using the DAM feature while staying updated on the latest version of specific files.
When it comes to editing, and if you want to have more control over permissions (in terms of who gets access to what files), you can also use the DAM feature to set this up.
Finally, if you want to visualize specific files in the context of your work, you can use Monday.com's DAM feature to do so.
Templates
You can use Monday.com and its various templates in different categories to speed up your work.
When it comes to all aspects of customer relationship management, there are templates that you can use for various types of business situations.
Whether you want to use Monday.com for tailored onboarding, contact management, building up a knowledge base, project management software, or anything else, these templates will help.
Integrations
One feature that all the best CRM providers offer is that they allow easy integration with the most commonly used software in the business world.
Monday.com allows integration with software such as:
Outlook
Microsoft Teams
Dropbox
Mailchimp
Trello
Slack
Zoom
Hubspot
Gmail
Google Calendar
Google Drive
Excel
This means that you can access the tools you use most often directly from your Monday.com account.
It also means that Monday.com will update all of your data in real-time in these third-party applications.
This is a great way to improve productivity and communication within your team without opening multiple applications that can lead to a loss of focus.Try Monday.com
Gantt Charts
Gantt charts are a visual way of representing a project's timeline.
With Gantt chart software, users can see how individual tasks relate to each other and how the project progresses over time.
This system is helpful for businesses that want to track their progress on a specific project.
Whether you want to keep track of your milestones or essential information using Excel spreadsheets, online data repositories, or even a whiteboard, the Gantt chart feature is one that you'll find helpful.
Workdocs
Workdocs is a feature on Monday.com that allows you to create, edit, and share documents with your team.
If you think that the way you have been using documents in your company is old-fashioned (and that it's time to upgrade to a better solution), then this feature is one to consider.
If you can imagine a different way of working with documents that would give your company a boost (but which seems unreasonable right now), then you can use Workdocs to start achieving that way of working.
The best part is that you don't need to be a tech expert to use Workdocs.
With multiple editors and live updates, you can work on documents in real-time with your team.
Monday.com's real-time engine is also an excellent tool for various functions such as board integrations, chat (through Slack integration), and more.
This helps you easily connect with your team and get work done quickly.
Time Tracking
If you want to know how much time you spent in your work doing specific tasks, there is a time tracking feature that you can use.
Its ease of use ensures that you will never forget to start the job timer and follow the set time for each task accurately.
Training
Apart from the various video tutorials and FAQs available on the website, there are also webinars on demand that you can join.
This ensures that your knowledge of using Monday.com CRM's platform is always up-to-date, allowing you to use it to its full potential.
Monday.com's blog is also a great source of information, with topics such as project management, productivity, remote work, teamwork, Work OS, nonprofits, and more being covered.
Mobile App
If you want to collaborate with your team while you are on the go, Monday.com offers a mobile application that you can use from anywhere.
Available for Android and iOS, this app can take the CRM platform's features to the next level. Even better this is how you use Monday CRM in 2023
In addition, if you want to improve your sales process and arm your sales team with a user-friendly tool that they might already be familiar with, you can use the Monday.com Salesforce app integration so they have all the information they need at their fingertips. Try Monday.com
Customer Service
With 24/7 prioritized customer support available in various forms, you can always get help when you need it.
Although there is no mention of phone support on their site, you can fill in a form and receive personalized support back.
Their team is responsive and helpful, so you can always get the assistance you need to use the Monday sales CRM to its full potential.
Pricing Plans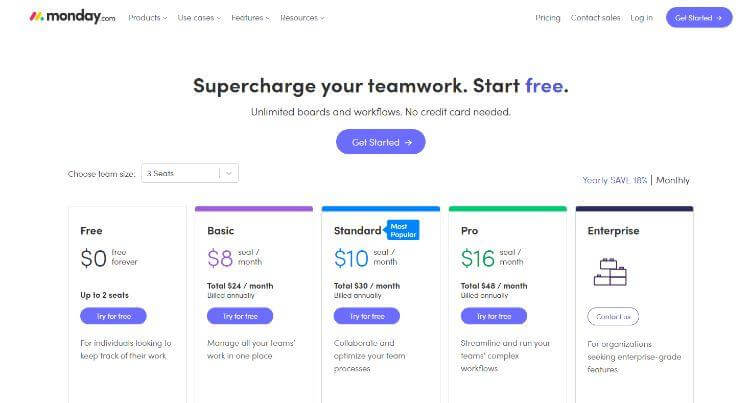 Monday.com offers a free plan that allows up to two users to try the software for free forever.
The free version is excellent for those who want to see what the software can do and if it is a good fit for their business.
After that, you can choose a pro plan best suited for your needs.
These paid plans are billed as follows:
Basic Plan: $8 per month per user
Standard: $10 per month per user
Pro: $16 per month per user
Each of these is billed annually and requires a minimum of 3 users.
There's also an Enterprise edition where you can ask for a custom quote.
Wrap Up.
From small businesses to those looking to use the enterprise plan in their workspace, Monday.com is an excellent tool for managing work.
The software is feature-rich and allows you to integrate with various other software platforms you may be using.
With various resource management solutions inbuilt within the software, departments such as customer support, sales teams, human resources, and marketing can all find combined success in using Monday.com.
As you consider which CRM software to use for your business, keep Monday.com in mind.
You might be surprised at how much this CRM can do for you.
Get started with Monday.com.